the star rings

structure


The Sidereal homes are a feat of engineering that remains unrivalled to this day. Learn more about how they function.


life in the rings


The void is considered by many as the single most inhospitable place to live - yet the Sidereals have managed to adapt to living without a planet. Discover more about their lifestyle.


politics


They may be miniature worlds, but the Star Rings, with their ethno-cultural diversity, presents political challenges not unlike Earth itself.

Powered by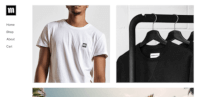 Crie o seu próprio site exclusivo com modelos personalizáveis.