the martian community

The cities of mars


Building self-sufficient habitations for millions of humans on such a lifeless world was no easy task. This is how they were built.

life on mars


Living in a freezing, radiation-swept planet with a third of Earth's gravity is not for everyone; still, the Martians have adapted their lifestyle to these conditions.

the freedom party and the areopolis disaster


Albeit short, the history of the Martian community is full of important events - and some of them are counted as the most tragical in recent human history.

Powered by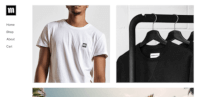 Crie o seu próprio site exclusivo com modelos personalizáveis.