Robots and androids

Robotics was already very developed in the first decades of the XXI century, but the economic and political crisis of those years hindered its development in

the

Western

world

. This allowed countries such as Japan and South Korea to become the undisputed vanguard in this area. Adrian Ogunleyé himself spent many years working and studying in Japan –

where he was married to Miyamoto Sakura

, also a Robotics doctor –;

he brought

the valuable lessons he learned in the Far East to Brazil and, with the support of the new government and of

both native and foreign

Robotics professionals,

his labs

thrived considerably,

even if

not coming close to competing with Japan

ese

and South Korea

n corporations

.

Robots became commonplace in developed countries' households in 2040; they executed from simple, boring and repetitive tasks to highly dangerous ones, also serving as helpers in many jobs. Efficient, multi-task nanorobots were developed a little later, and were mainly used in microscopic-scale activities –

notably in

medicine,

where they were used, for instance, to

identify and eliminate pathogens

(cancerous cells included) and

perform micro-surgeries.

In those first decades of the XXI Century,

robots were always d

esigned to be

nothing more than machines programmed to perform specific tasks; Adrian Ogunleyé and other scientists were responsible for a philosophy of "non-humaniz

ing the robots,

"

claiming that t

he bestowing

sentience and autonomy

to machines

would

ultimately cause them to turn against

humankind.

The Eastern

mindset

was different: they put much effort into making robots as human-like as possible. And they succeeded: around 2042, South Korean and Japanese scientists – led, quite ironically, by Miyamoto Sakura – made the first series of sentient androids.

At first, they were

integrated to select few families as experience;

but

they proved to be helpful, peaceful and friendly, and

so

more were fabricated and put to work alongside humans, especially in dangerous or boring jobs.

Mainly, however, they were employed as companions and aides to the disabled and to individuals with socialization issues.



They became spectacularly popular, and people grew so fond of them that many groups demanded for the machines to receive rights similar to humans'. And they succeeded too: those who employed androids were automatically charged with taking care of them; though their salaries were comparatively low, they received free shelter and maintenance. Additionally, androids were only obliged to work for the duration of a contract; when it ended, they had a choice to find another employer – though they never did so willingly, unless they had experienced mistreatment, and such occurrences were rare, as the abuse of an android was punished, in most countries, just like abuse of a person

.
However, as newer and better series (that is, androids with more refined and
more
diverse skills) were
developed
, the first ones ended
up
seen as "obsolete;"
as their contracts ended, they were
replaced by better units. This made them feel marginalized and upset; and then they
realised
that
, in spite of everything,
they were still mere objects.
It was then that
those androids began questioning the worth of humankind,
discussing
what they saw as the humans' hypocrisy, concluding that they,
the machines, upheld human values more faithfully than their creators themselves – and, thus, they had a moral obligation to actively make the world a better place
. The next step of the so-called "First-Born Androids" was to secretly convince other androids of their point of view, and soon they had a huge number of followers in the
many
countries
where they were used.
It
's important to stress
that the androids did not do that out of
resentment
or revenge,
let alone with world-dominating goals; after all,
they were programmed
not to
cultivate any destructive or harmful feeling. Their logic
meant well
: human
ity
as a whole prove
s
time and again that, in spite of all its ideals of justice and peace, it
ever
fail
s
to build an
ything close to an
ideal world,
all
due to the ambition
and prejudice
of some groups. Androids, on the other hand,
had
literally
been programmed to contain the best traits humanity had to offer.
In 2080, as the world's countries were still recovering from the Greater Famine, androids in Japan and South Korea took over the Internet and most of the communication
networks
, effectively paralysing those countrie
s
and broadcasting, to the
ir kin overseas,
their beliefs, plans and goals: to
earn the right to true autonomy, to
emancipate from human
ity
and to build a country of their own.
They returned control of the
networks immediately
afterwards, leaving the world to discuss what had
just
happened. Many people were actually in favour of
granting the androids a land for them to live freely
; however, the higher
spheres of power all over the world,
as well as the Robotics industry, were aware of the implications of accepting the First-Borns
'
requests: not only would they make an industry of their own – which was sure to topple
every
human business
very soon
, due to the androids' superior logical and cognitive skills – but, also, that would encourage more of their peers to do the same, which was simply unacceptable.
After all, no company would spend billions building androids only to see them running away to their own utopia.
The UN reached a decision by the end of that year: the First-Borns' request would not be accepted.
But the androids did not accept
that
either
,
and
they insisted on their dreams, organizing protests, talking to prominent public
figures
... When they realised that would not be enough, they organized
more
hijackings
of media networks, to
call the world's attention upon themselves
again
. They did nothing that would bring harm to people, though it did cause
a bit of
damage on the economy of the affected countries.
When hundreds of thousands of people around the world joined their cause, the androids thought they were, at last, being heard
.
But the official response of the human community was something that not even the intelligent androids would've ever expected.
In 2083, alleging that their increasingly impatient behaviour could soon haphazard humans, the world governments decided to chase down every single android and send them back to their own respective build
er
companies ,so that their artificial sentient brains would be destroyed and their body parts re-used in common robots
.
There were major uproars during the so-called Android Purge –
officially known as the "Reformation" –
; after all, even though androids were bought, people had grown to like them
as
friends and, in some cases, even lovers. However, there were also those – specially religious people – who argued that androids were, indeed, mere
machines that only
look
ed
and behave
d
in a human-like way
.
R
egardless of all the criticism and all the protesting, the governments and the Robotics industry
succeeded in
destroy
ing
every android and forbid
ding
the building of new ones. Scientists involved with their projects were watched over and forbidden by the government to pass on the knowledge of their creation, and
people found to be sheltering androids were arrested
.
As the years passed, "official" History came to remember the androids as a latent threat
that had come too close to destroying society as humanity knew it; so negative was their memory that even robots made to remotely resemble humans – be it by appearance or by sentience – were frowned upon and sometimes forbidden by law from being developed
.
Powered by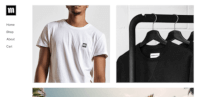 Crie o seu próprio site exclusivo com modelos personalizáveis.